Keys Storage & Tracking System
SAIK is an abbreviation of the full name: System of Automatic Key Identification.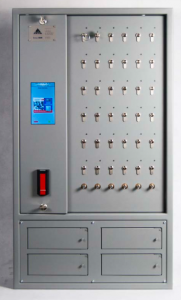 Within the broad range of SAIK products there are deposit safes of various specificity for safe and monitored storage of keys and selected items and allowing their identification.
These devices are self-serviced and operate 24 hours a day for seven days a week without a necessity of constant supervision.
SAIK deposit safes can be interconnected, irrespective of the intended use of a particular model. Thanks to the connection into the network, interconnected units can cooperate, whether they are located in the same building or even on different continents. The system can be at any time expanded as the needs may be.
SAIK is a modern, constantly developed system, not only protecting valuable items but also allowing full control of access to them. All SAIK devices have been designed and manufactured in Poland since the year 2002.
Nearly every manager responsible for a company or institution efficient operation frequently asks himself the following question:
How to manage the keys? How to be in control of the circulation of keys? How to replace the register of given-out keys? How to relieve the porter from the nuisance of handling the keys, so that he can deal with other duties?
The effective solution to this problem comes with SAIK electronic deposit safes, which combine safe storage of keys with their access control and recording their circulation. SAIK is the abbreviation of the System of Automatic Key Identification designed and worked out by the bt electronics company.
Generally speaking, the system consists of an electronic cabinet for keys and the software which registers and permanently records every single act of collecting and giving out keys. Administrator of the control program – usually an authorized operative of a given user of the system – decides to grant key access rights to specific persons and determines periods of time when this access is possible. This system ideally suits clients who cannot or do not want to give up and do without mechanical keys but do have problems with the key management and recording the key circulation.
SAIK System offers a modern approach to key circulation management and provides full control over the access to staff rooms and documents and other valuable items deposited in deposit safes. Application of the SAIK system allows full identification and control of keys, deposit safes and employees, analysis of the data collected and enables instant reaction to emergency situations identified by the system.
Electronic cabinets of SAIK type together with their software have been in use for a dozen or so years with prestigious customers such as banks, public institutions and offices, higher education institutions, museums, old people's houses, car saloons, enterprises and other entities where access control is an essential security factor.