IRIS + Face + Thermal Detection 
2D EYE Thermal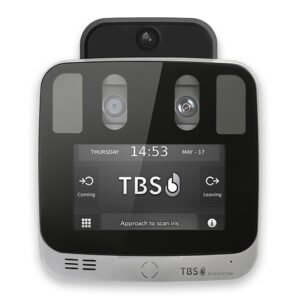 Hybrid iris and face recognition including an additional thermal camera for body temperature measurement providing high security and multi-functionality at point of access.
TBS Biometrics introduces a revolutionary reader, featuring combined iris algorithm and face detection. Its distinctiveness comes from the combination of eye and face detection that makes an even more robust accuracy. The sensor captures the iris of both eyes while the face sensor is used to automatically distinguish the height of the users and adjust.
All biometric devices have their advantages and limitations. Where popular face recognition still struggles is with high accuracy however, it is very intuitive and simple to use. Iris recognition extremely accurate but is still not user-friendly.
Iris recognition for high security
and multifunctionality at point of access.