Swing Gate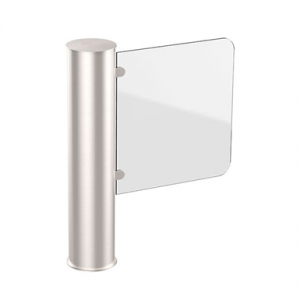 What is a Swing Gate?
Swing gate which also called as smart electronic hidden glass gate is the type of electronic sliding gate with glass wings and motors used as smart gate when integrated with a smart access authentication system or a biometric or RFID card system. They operate automatic with a sliding wing glasses and motors. They are used as a security access gate at the buildings and offices. This help you to control, monitor, and audit the visitors, guests and employees come to the reception areas, large event venues, stadiums, passengers at the airports. Swing gate is also known as hidden glass gate and speed gate. Such gates are used in airport emigration e gate system which allows access with UAE emirates ID.
How Swing Gate Works ?
Swing Gate comes with a sliding wing glasses and its motors. We can operate the motors with a trigger to open the glass gate like a flap gate . Motors can be triggered with the use a button, remotes, smart cards, and biometric identification readers such as finger print and facial recognition systems .
Turnstile gate solutions also works with the same to control people access to a particular area . This can be connected with identification readers .
You can control, monitor, register and track the visitors at your offices using this type of automatic hidden gates and turnstile gates.
Swing Gate Integrated with Biometric readers and swipe smart card machines
An automatic Swing gate can be integrated with biometric readers and smart card readers for people access authentication.
Biometric readers and smart card machines identify authorized person and open the smart swing gate, enabling people access highly secured.
Swing Gate Integrated with Access Management Software
We can provide a comprehensive visitor management software and access management software integrated with our access control hardware for the access control. This software is integrated with biometric readers and smart card readers
We can install biometric readers and smart card readers with swing gates and turnstile gates to authenticate the entrance
Software will record all the details of the people and visitors accessing the smart gate, so as to give the management a detailed report on who accessed the gates and when.
Biometric readers commonly used are fingerprint or Palm Vein machines (PVR). These kind of gates are used as smart e gate system at the ports, metro stations and highly secured places.