Hologram
If you are seeking a practical security feature for your organization's ID card, then holograms are the perfect place to start. Not only do they serve as a means of protection and authentication, but they also serve as a detection device, helping the trained eye to distinguish the genuine article from the fake one. In addition to serving as a security feature, 3D hologram film also acts as a transparent protective layer to your cards, enhancing its longevity. A plastic ID card with a hologram overlay will look like the picture mentioned below: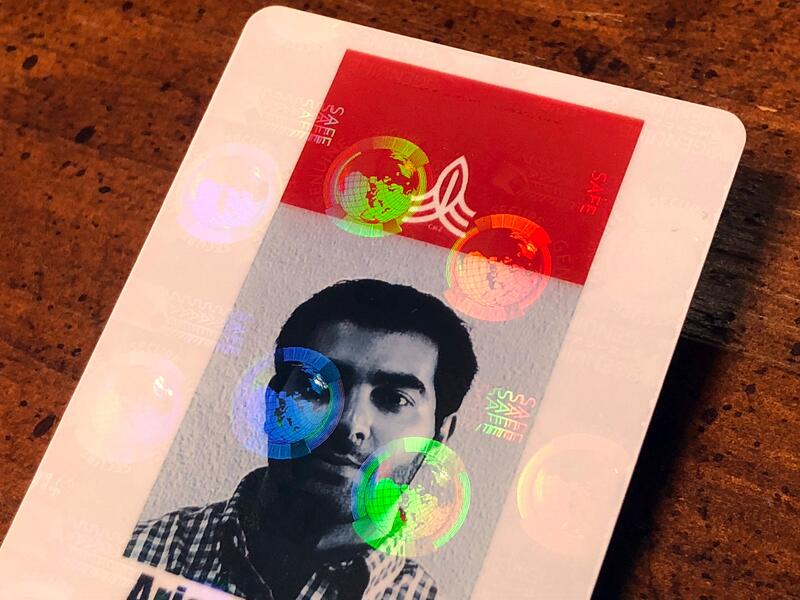 3D Hologram is mostly available in pre-designed configurations, and it's not possible to customize them unless you are prepared to spend big on it. However, if the goal is to add your businesses' logo on the card, then you must go with either foil stamping or watermarking.
Foil Stamping
Also termed as foil blocking, it is an industrial printing process that uses heat, pressure, and a metallic paper (foil). The technique is commonly used to create shiny designs and graphics on various material surfaces using a foil stamping machine. Although the foil is available in numerous shapes and colors, gold and silver colored foils are the most popular options and is difficult to replicate without knowledge of plastic card manufacturing.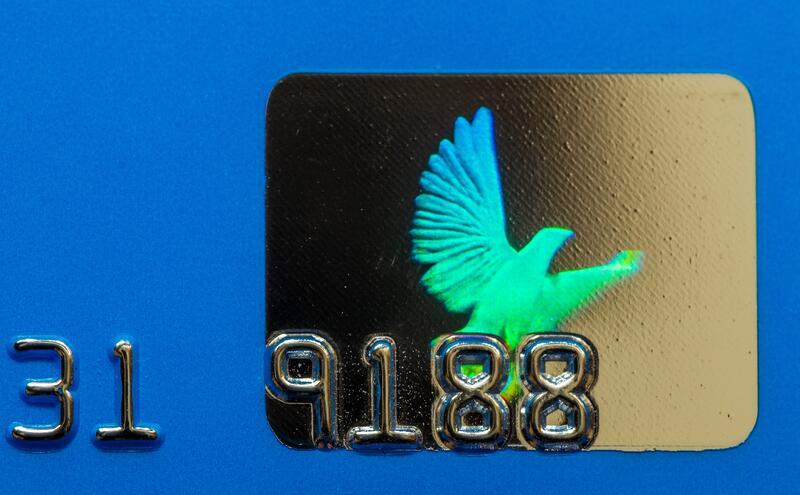 Debit and credit cards are perfect examples to understand hot foil stamping. In the picture mentioned below, the last four digits have a silver foil stamp with a hologram on top of it. In short, foil stamping, if done correctly, can be a very effective deterrent to card duplicators.
UV, Watermarking, or Fluorescent Print
Ultraviolet inks are a smart way to increase the security of your document or security badge without anyone realizing it. The fluorescence image embedded on the material is not visible unless it is viewed under UV light, making counterfeiting almost impossible. Check out the image below to better understand this technique.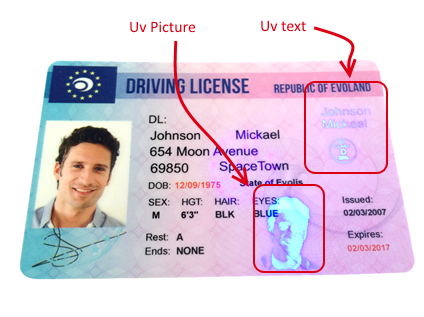 3D Hologram Customization Solutions
Ever wondered why the most prominent organizations in the world make use of 3D hologram on their products? It is only because high-quality security holograms cannot be copied by any polygraph method and are completely tamper-proof. We offer specialized hologram in UAE that are designed to act as an effective anti-counterfeit solution.